Frequently asked questions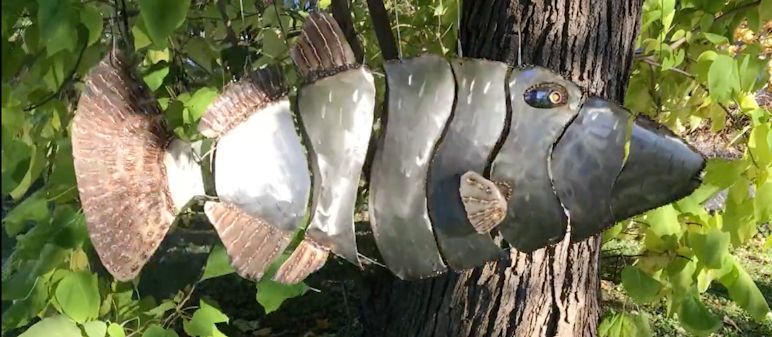 ---
What is your process when creating your art?
I start by drawing my project on paper. Then I make patterns from my original drawing. I transfer the patterns to the sheet metal and cut them by hand using a Miller Spectrum 375 X-Treme Plasma cutter. The shaping of the pieces is achieved with a rubber mallet and shot bag. The pieces are welded using a Millermatic 211 MIG welder. The rigging and balancing of each piece is all done by hand. Each mobile has approximately 149 different parts required for completion.
---
How do I hang mobiles?
The mobile comes ready to hang with a heavy duty ball bearing swivel with a coastlock snap (rated for 500 lbs). Wire or chain is the best material to attach to the swivel.
---
Where can I hang a mobile outside?
All of the following will work well:  a sturdy tree branch, a heavy wire strung between two trees, the overhang of a house or other structure. Just make sure you have enough clearance to avoid striking any objects on a windy day.
---
Will my Metal Motion Art hold up to weather?
All components are heavy duty and made to withstand the elements: rain, snow and wind. Mobiles should be taken down and secured during extreme weather events.
---
Will my mobile rust outside?
Yes, if it is made from mild steel. I typically copper plate the steel and then spray a clear coat to finish. To maintain the copper finish you can pick up a can of clear coat at the hardware store and give it a coat every season. If you want it to rust and age, leave it alone. No, if it is made from stainless steel. It will not rust and no maintenance is necessary.
---
What if I want to hang my mobile indoors?
Hanging your mobile indoors is a great idea. You will need some air movement via a fan or a motor/controller unit to achieve motion. The motor and controller unit is an option that is available from Metal Motion Art.
---
How does the motor/controller unit work?
The motor and controller unit can be programmed for specific movements. I program each unit myself to achieve a natural swimming motion. Programs can be changed or a new one added for a slower or faster swim.
---
Will the motor/controller unit work on all mobiles?
Yes. If you decide on a motor after you have had your mobile for a while it is easy to change from wind power to motor power.
---
What kind of wiring is required for the motor/controller unit?
The motor and controller unit is a low voltage, 24 volt system that is ready to plug in any outlet.
---
Do you do commissioned work?
Yes. Bring me your ideas and I can create a unique piece just for you. Read more about how to  commission work .
---
How long does it take once I place my order?
For a new piece, the average lead time is 4 to 6 weeks. Some projects may require more time.
---
Do you provide shipping?
Yes. Every piece is carefully packaged and will be shipped UPS Ground.
---
How do I get pricing for a custom project?
Please fill in the online form and a quote will be sent to you within 48 hours.
---
What size are your sculptures?
The sculptures range in size from 12″ to 72."
---
How much do they cost?
Wall hangings start around $150.00 and full size motion sculptures start at $475.00 and go up depending on materials used and amount of detail and size. Motorizing the sculpture is around $200.00  and includes the motor, controller unit, 24 volt transformer and ceiling mounting plate. All motion sculptures come set up for both wind power or motorized.
---
Do you warranty your art?
Yes. For one year I will fix anything that is returned to me. Repairs will be at no charge. Shipping is at your expense.
---
Do you just make mobiles?
No. I also create wall hanging metal art. Take a look at my wall art gallery.
---